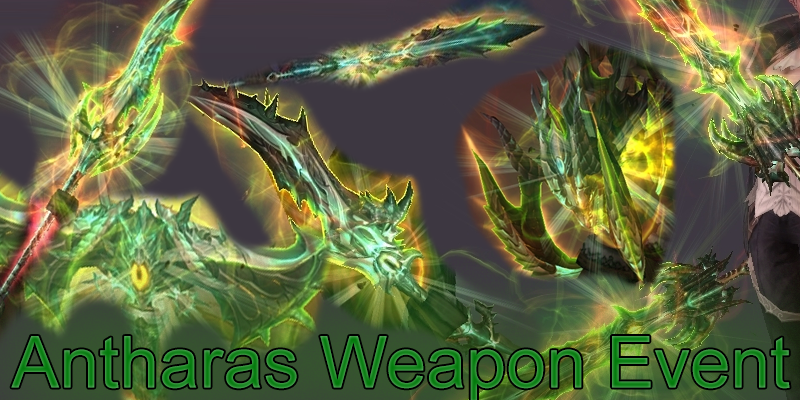 Legendary Antharas weapon event has started. These are the weapons that the Grand Prize Winner of the Spring/Summer donation event will get to choose from. The details of the Spring/Summer donation event will be posted later this month, but all donations starting from February 1st until the 31st of August count toward the drawing.
You can obtain these weapons by talking to Ives in Valhalla (-shop command in game) for 20 GC each. You can also obtain Dragon Enchant Scrolls which can be used to quickly level up and enchant the weapons.
Event Period
From May 21st through August 31st
Event Details
Event versions of the Legendary Antharas Weapons are obtainable from Ives in -shop

Event Weapons can be enchanted via Dragon Weapon Enchantment Scrolls

DWES apply to the currently equipped dragon weapon and have a chance to add +1 Level and/or +1 enchant or can fail and add nothing.

When event ends these dragon weapons will be greatly reduced and strength and no longer provide the dragon buff items until next event period, without the use of Antharas Essence potions.
Weapon Details
All weapons when equipped in "Event+" status (during event or with essence potion) will provide an item to cast Antharas' Blessing
This buff adds +1000 Max HP and prevents Earth Bind from landing on you

Antharas' Spine Thrower - Crossbow
This weapon is a 1 handed Earth Arrow shooting machine!
Soul of Dragon buff can proc at level 30 which polymorphs your character into the ultimate bow morph
This bow morph increases damage the farther away you are from the target.

Antharas' Tail Spike - Polearm
An AOE killing machine!
In zones that permit AOE this weapon does damage to multiple enemies and packs a good punch!
The level 30 proc is very high damage for a pole arm

Antharas' Twin Slicers - Edo
With +27 Str and +24 Dex at level 30 this weapon can slice through most challenges with a breeze
A blend of Debuffs and damage procs make this weapon a good balance
At level 20 it can proc Root which casts Earth Jail on the target

Antharas' Quill - Dagger
The Crazy Debuff Machine that is the Quill can land all sorts of debuffs
Can Silence at Level 30
Can Paralyze at Level 15
Cand Blind at level 10
Can High Grade Poison at level 5

Antharas' Claw Axe - Blunt
High damage, low crit rate brutal weapon.
At level 30 it tops out with 200/200/+153 making it a very deadly weapon!
It also adds 1275 Max HP at level 30 (not including the extra 1000 from Antharas Blessing!)

Antharas' Wand - Staff
When equipped in Event+ mode, it will provide you with a spell item for Destruction. A souped up version of eruption that looks awesome!
Due to its very high stats and having an extra spell, it does not come with other procs.

 Dragon Weapon Enchantment Scroll - Item
Applys to currently equipped dragon weapon
Has a chance to add +1 Soul Level to the equipped dragon weapon
Has a chance to add +1 Enchantment Level to the equipped dragon weapon
On fail it simply does nothing.
Max enchant level is +20
Max Soul Level is 30
Known Issues
T5 Mage buff isn't effecting Destruction spell properly this will be fixed soon
The Twin Slicers (edo) at Level 30 doesn't have high enough damage added to it making it too similar to the Quill a 1 handed weapon. It will have more damage added to it to ensure it compensates for the fact that it is 2 handed and prevents the use of a shield.