New Prize Claim System
A new prize claim system has been developed. Currently this system only works for the new FlipToWin mini game, however it will be implemented to most aspects of the site eventually. This includes Auction House, Pandora's Game, Gift Coin Wheel and anything else new added that requires delivering items to your characters.
This system allows you to select items that you have won from the game and choose which character to transfer it to. You can also alternatively choose to delete the items if its something you don't want and don't want to bulk up your character's inventories.
You can get to the prize claim page by going to L1.5 : [Custom Private Lineage 1 Server] or clicking in your profile window in the upper left of any normal L1.5 page as seen in the picture below.
[center]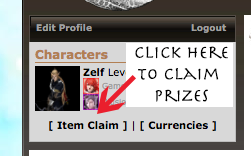 [/center]
New Site Currency System
A new currency system has been added to manage giftcoins for site based features. Currently it is only used for the new FlipToWIn game, however it will also be implemented into the other site features eventually.
The purpose of this system is to make it more secure to spend gift coins on the site and easier to spend those gift coins directly after donating as well. You can manage your site currency using commands in game. There are 3 commands for this they are as follows:
-site deposit x : this command takes giftcoins from your inventory and stores them to the site currency system. X in this case is the number of giftcoins you wish to deposit.

-site withdraw x : this command removes giftcoins from the site currency system and stores them to your inventory

-site check : this command will tell you how many giftcoins you have stored in the site inventory system
Item Protection System
A new feature was added to protect your items from being deleted by the bug that has been hard to track down and fix due to it being a client packet bug. This feature will prevent your items from being deleted unless you toggle on delete mode. There are 2 new command for this:
-delete : This toggles on delete mode. After you use this command you can delete any item from your inventory that is not sealed. This makes things work as they always have deletetion wise.

-nodelete : This toggles off delete mode. You will not be able to delete anything after using this command until you use the -delete command again. It is by default enabled.
Other Changes
Bug with equipping Gore's Animus has been fixed
Gore's Animus now increases damage (physical and magic) by 25%
A bug that was causing dolls to increase exp gains by 100% each has been fixed