I've worked very hard to improve upon the previous gift coin wheels to make this one much smoother and a much more fun experience for the players.
Here is a preview image of the wheel in all its glory: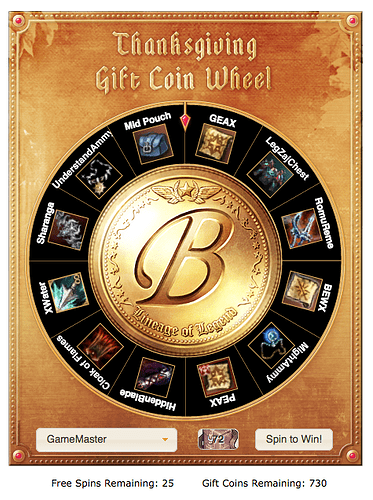 I'll notate some changes just in case its hard to tell the difference.
The initial items on the wheel before your first spin are randomized rather than just being the top items
You select a character to store the prizes on rather than them being sent to your warehouse
You can see how many inventory spaces are left on the selected character
There are now free spins that can be used for the same odds and items as gift coins
The items now have borders and look much prettier
The item images are bigger
When you spin the wheel, it shows a prize image in the center instead of just text
Many bugs and tweaks were made to make the whole thing run way smoother
The wheel will be released tonight at midnight, the delivery of free spins will happen this evening.
Good Luck!
Have Fun!