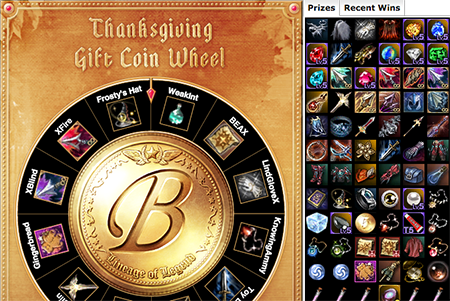 The Thanksgiving GC Wheel is back and better than ever! New features show the possible prizes and the prizes that have recently been won on the right side of the wheel. This will help you get excited for the possibilities and possibly help you realize when you've won a major prize. Also included in the wheel's inventory this year are Lindvior X grade items from the new Epic Lindvior boss as well as Ultra's, Fluids, and many other Elixir types!
Spin Types
There are 3 spin types, a 1GC spin, 5GC spin and 10GC spin. Spinning for higher gc amounts has some benefits over spinning for lower. With lower value spins you have a chance to get an item called 2nd Chance Box, which when opened in game has some rewards that are mostly shots, but has a small chance to get some protection scrolls. With the higher valued spins you get what are called spin chances. When the wheel is trying for some of the bigger prizes, it will roll for your chance this number of times, giving you the best roll. In simple terms, this means it increases your chances of getting the rarer prizes with each spin! The last change depending on which spin value is a multiplier. It will cause some more common items to give you more than the amount typically given for that prize. See the chart and examples below to better understand this.
Multiplier Examples:
A Spin wins "Tier-Ease T5"
1GC Spin: 1 Tier-Ease T5 awarded
5GC Spin: 3 Tier-Ease T5 awarded
10GC Spin: 5 Tier-Ease T5 awarded
A spin wins Fafurion Cloak X
1GC Spin: 1 Fafurion Cloak X awarded
5GC Spin: 1 Fafurion Cloak X awarded
10GC Spin: 1 Fafurion Cloak X awarded
As you can see by these examples, multipliers only apply to some items that are won. Many of the valuable items are not effected by them. However the chance of getting the rare items are increased with the higher valued spins.
Possible Prizes
Possible prizes are now listed on the right side menu of the wheel. You can also click on the Recent Wins tab to see the recently won prizes that also announce in global chat.