The Longest L....
In September of 1998 a new game came out that would change the world of gaming. Lineage. This game released world wide on September 3rd 1998 changing the lives of many of us and forever making its mark. This game paved its way into our hearts with its addicting grind and slow paced progress that felt hard earned and very balanced.
In July of 2009, Zajako was messing around with an open source emulator for Lineage, trying to help make content for another private server that he was playing called Dlirk. At the time Dlirk became unresponsive in game and wouldn't respond to attempts to contact him, so Zajako just kept tinkering with the code and experimenting with adding new content and features that would make the game fresh and new. Many of his friends from other private servers were very interested and wanted to try to play it. Soon after, there was a following and Zajako created a website for it and began opening it up to the general public.
As it was a hobby project and Zajako was a fan of both Lineage 1 and Lineage 2, he set about adding content from Lineage 2 to the Lineage 1 engine as a fun way to create the Lineage 2 that most avid Lineage 1 players wanted to play but did not adapt well to the 3D engine of Lineage 2. Thus Lineage1.5 was born.
After many years of growth and being noticed some legal issues came into play with one of the hosts for the Lineage1.5 website. As a precaution the game was renamed to L1.5 and many other changes were made to the site and game. Soon after the direction of the game greatly changed and while the content was becoming more and more custom and less Lineage (1 or 2) based, the branding was well established, so it was not further renamed.
Years later Lineage 1 was becoming less and less profitable for NCSoft in most of the world, and they shuttered their doors on the NA servers (which also served Europe, Australia, South America and pretty much all other English dominated markets) thus ending Depardieu, Ken Rauhel, and Lands of Aden servers on June 29th 2011.
Total time for Depardieu the first Lineage 1 NA server resulted in 4682 days or 12 years, 9 months and 26 days.
11 years later…
L1.5 is still up, still releasing new content and still thriving on donation based income! We've modernized the game to support multiple play styles and provide ways for those who can't play full time to still make progress. Invented new and improved features that were never dreamed possible for a game like this. And even made a browser based client that can provide ways to connect and interact from nearly any modern browser. During this time we've never wiped the server and have only performed 1 rollback to facilitate an EPIC April Fools joke early in the server's life.
At the time of writing this article, L1.5 has been up for 4748 days or 13 years! (See here)
This makes us the Longest L!!!.. Well in the NA markets (and most of the english speaking world). In Korea Lineage 1 is still thriving and releasing new content 24 years after it was created, which is something no other mmorpg can yet say!
Continue reading to find out the different ways we are celebrating this momentous milestone!
Limited Edition "L1.5 13th Anniversary Special" NFTs
When I said we modernized the game, it should have been modernizing, as we're never done! The current modern world thing going on is crypto of course. NFT or non-fungible tokens have been taking the world by storm the past few years and while most of them seem to be gimmicky or don't really serve a purpose, that's not the case here.
These NFTs will provide passive boosts to your characters in game if you link your crypto wallet (currently limited to MetaMask wallets, more will be supported in the future) to your account via the page here: L1.5 : [Custom Private Lineage 1 Server]
Once linked the server will be able to see the NFTs in your wallet and provide the bonuses for each NFT that is affiliated with L1.5.
NFTs can be traded on public markets like OpenSea for crypto currencies like Etherium. Allowing you to buy or sell the NFTs and collect them all. Also these NFT bonuses stack, making it so that you can get even more bonuses by collecting more than one.
Whether you hold and get boosted by the NFT, buy more NFTs or sell to make money off of the NFT is up to you, as the NFT marketplace is controlled by the community and any NFT in your wallet is yours to do with as you please.
Tutorials for setting up MetaMask and linking to the server will be provided in the near future.
You can see the L1.5 13th Anniversary Special Collection here: https://opensea.io/collection/l15-13years
L1.5 Badge System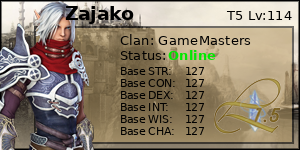 The classic badge system has been opened back up for use. This system will see updates in the future, however you can use it right away with the url:
You must change YourCharacterName to your character's name. If it is blank this is because you have it disabled in the Site's Options (located under Account > Options).
You can disable it, or limit the information shown here by going to those options and changing them.
These banners will currently not work for some of the newer classes as they were made many years ago. This too will be updated to support all the classes and some new background options will be added as well. These urls can be treated as an image url and if it is used correctly by whatever site you embed it on, it will be updated and kept fresh with your current status/stats.
RealTime Events
During the later half of July and the month of August (2022) there will be in game and discord events. These events will happen as Zajako has time to facilate them and will usually be given notice via discord / twitter and or in game announcements. These games will have rewards ranging from items in the game to even chances at some of the limited edition NFTs. Here is a list of possible RealTime events:
GM Spawn Events (in the Event Arena)
Find the GM Events (Zajako hides somewhere in game and the first ones to find him get a prize
Find the Item Events (An item is spawned or placed on the ground somewhere in game and the first one to find it gets the prize)
L1.5 Triva ( Questions about the game will be asked, prizes awarded to the ones who get correct answers )
L1.5 Arcade
[floatl]
[/floatl] One mini game isn't enough for such a momentous occasion! So I thought, "why not bring them all back!". Thus the L1.5 Arcade! Its a list of all the major mini games created throughout the years for L1.5. Ranging from the old gift coin wheel (not quite the original, but pretty close) to the latest Heroes of the Forest mini game released last year.
These mini games have been reset and readied for this event and have some new prizes that are unique to this anniversary event.
There are even some NFT Prizes in each of the prize pools for nearly all of the games! These NFT Prizes are very limited and don't reset with each inventory reset so once they are gone, they are gone!
Because there are so many mini games the free plays/spins/etc are randomized. Every hour each character logged into the game will randomly get free plays/spins for the games. It rolls a chance for each mini game so you may not always get one but sometimes you may get 2 or 3 or more. Just stay logged into the game every hour to get these free chances to win prizes. If you want more chances, you're always welcome to donate and will be given gift coins as a way of thanking you for your support, these can be used to continue playing the games.
Donation Event, and GC Rate Details
The details about the donation event and related information are posted here: The Longest L - 13th Anniversary Donation Event 2022 - News & Events - L15Server Boards
New Items
[floatl]
[/floatl] Greater Doll: Death Knight - The new Death Knight doll has a lot of boosts, View in the library to see more details!
[floatl]
[/floatl] Large Anniversary Cake - When used it is sliced up into 5 pieces of cake for consumption.
[floatl]
[/floatl] Anniversary Cake - 13 years - The cake is not a lie, it is a powerful limited edition buff item that casts 3 new GM Buffs on you when you eat it. The new GM Buffs are as follows:
[floatl]
[/floatl]
GM Buff - Penetration: Adds a significant amount of Penetration Damage to your attacks.
[floatl]
[/floatl]
GM Buff - Speed: Adds a significant amount of Critical Rate and Critical Damage in addition to morphing you into a fast moving polymorph.
[floatl]
[/floatl]
GM Buff - Empowering: Adds a significant boost to all primary attributes.


[floatl]
[/floatl] The Longest L Spell - 2022 - A custom spell item that when used casts a new L1.5 Anniversary Buff on your character. This buff increases exp and sxp gain while active.
...
Lastly I want to thank you all for the support over the many years. This achievement is only possible thanks to -you- the players. I'm blessed with the opportunity to continue to develop this game only thanks to this support and I'm going to continue to do my best to make sure we continue to be not only the Longest L, but the best as well.